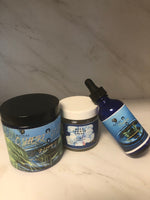 Chebe Hair Bundle
Chebe Powder is a powder that is traditionally used by women of Chad in their hair care routine to nourish and hydrate their hair.

This Chebe Hair Butter is made from Chebe powder that has been infused with. our special oil blend of oils that we use in our Hair Serum but now we have a powerhouse of oil blends to grow your hair into healthy and stronger strands.

Chebe Hair Butter can assist with the hair care routine of those with low porosity hair- which tends to be dry as it adds and retains moisture, making it softer and easier to manage. Our Chebe Powder  has saturated into the oils in big containers  to make sure you benefit from the herbs and strained when mixed into the Shea Butter and Mango Butter Blend. 
Directions: You MAY apply to scalp and hair strands with our butters, if you use for first time or on younger children do a test patch for any allergic reactions to herbs or oils . You may use butter between braids, edges, hair, daily or as you need your hair moisturized. You may also mix with a conditioner of your choice and sit under a heat cap or just use as plain butter  treatment as a hot oil treatment  and sit under heat cap, however you choose  you will find out that your hair will be moisturized and stronger the more you use it.
We will be bringing more of these products in the future such as hair conditioner, shampoo and moisturing spray.
Butter ingredients
INGREDIENTS:
Chebe Powder, Shea Butter, Mango Butter, Organic Sunflower Oil, Organic Jojoba, Extra Virgin Olive Oil, Grapeseed Oil, Soybean Oil (non-GMO), d'Alpha Vitamin E Oil, Cedarwood Essential Oil, Chammomile Extract, Ginger Root Extract, Stinging Nettle Extract, Rosemary Essential Oil, Rosemary Extract, Thyme Extract, Lavendar Essential Oil, Lecithin, Peppermint Essential Oil, Tea Tree Essential Oil, Saw, Lemongrass Oil